CMMS³ allows the user to develop a "Computerized Maintenance Management System" comprising the array of regulations, procedures and tools involved in collecting and processing the information needed to manage maintenance operations and to monitor equipment activity. Our user-friendly software is 100% developed in Italy and is easy to implement.

RAMCUBE is able to offer a range of support services such as training for users, plant data collection and loading, BOM creation, SPIL vendor checking, defining maintenance policies, WBS (Work Breakdown Structure) creation and workflow approval processes, resource rationalization, workload management. It is also involved in the drawing up and evaluation of the plant's key performance indicators.

Through a consolidated partnership with Microsoft, CMMS³ is available on the Microsoft Azure™ platform for easy cloud implementation, guaranteeing a high level of application and data availability.
CONTACTS
DOCUMENTATION
Download PDF format (ENG)
Download PDF format (FR)
Download PDF format (RUS)
RELATED SERVICES
Maintenance management & asset integrity
CMMS³ for Microsoft Azure™

FEATURES
MAINTENANCE
Scheduling preventive maintenance, allocating resources and planning maintenance activities

BUDGET AND COSTS
Plant maintenance cost planning, checking final operation costs

STOCK AND GUARANTEES
Stock optimization and guarantees management
RISK AND AVAILABILITY
Equipment reliability assessment, resulting in increased availability and overall safety of the equipment

DOCUMENTATION AND PROCEDURES
Management of the technical documentation of the equipment and centralization of maintenance operations
BENEFITS
AVAILABILITY
Improvement in equipment yields and reduction in interruptions to production process
OPTIMIZATION
Balanced maintenance of spare parts in stock
CONTROL
Tracking of work order advancement and of the interventions on each piece of equipment

PERFORMANCE
Improvement in performance and prolonging the equipment's life-cycle
SOFTWARE ARCHITECTURE
CMMS3 is now available on the Microsoft Azure TM platform for easy cloud implementation. This application has been completely redesigned in order to allow your whole application infrastructure to be stored onto a cloud management system, including databases, file storing and staging areas.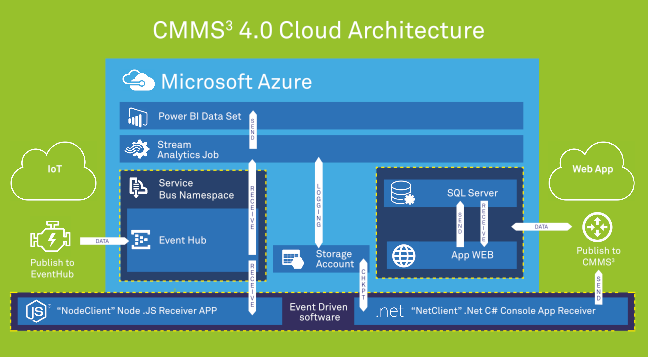 CMMS³ MOBILE
CMMS³ MOBILE is a new application designed and created by us for plant maintenance and building site technicians.
This mobile version can be easily installed onto a Smartphone or tablet, wholly satisfying the employee's need for mobility, at a speed which the modern professional requires.
CMMS³ MOBILE allows users to access centralized server data and technicians can therefore receive and send data directly from where they are carrying out an intervention.

MAIN FEATURES:
direct assignment of work order
georeferencing of the piece of apparatus requiring attention
consultation of on-site apparatus documentation
consultation of apparatus activity history
closing of the work order in real time with data synchronization in on-line/off-line modes
QRCode interfacing
photographic documentation of the intervention being carried out

BENEFITS:
Punctual identification of the piece of apparatus requiring attention
Time-saving assignment of work order
Emergency control
Immediate control over activities being carried out
Control over incoming data
Off-line terminal use